Browsing articles tagged with " assertiveness training"
To sum up my blogs of the past few days, you learned to love that person on many levels including a deep neural physical level in your brain. That fact, that the love you feel for that person is something you have learned to feel, is tremendously important. It is important because, if you learned to love someone, you can unlearn that love.
If you can learn to unlearn, what freedom! You won't have to spend years struggling in the backwash of an old love affair. You won't have to rely on illuminating the whys and wherefores of your former relationship with insight.
If love is learned, you can unlearn to love someone, because you want to stop the pain.
You won't have to rely on wishful thinking ("if only, if only"), the advice of friends or "experts," or the random chance of inspiration or insight, or the slow passage of time.
You can do it yourself. And you can do it now.
Insight or working through your memories of the happiness, pain and sorrow of a lost lover continually reinforces the damage, while not thinking about "him" or "her" weakens the pain.
That's why traditional therapy prolongs the pain and sometimes makes it worse. Traditional therapy asks you how you felt about "him" or "her." And asks you what "he" or "she" was like? And why did you feel that way? I don't ask those questions because, as I've just pointed out, going over how you felt and why you felt that way just reinforces all those old thoughts and images. When a new patient comes into my office suffering from the pain of a lost love, I don't even let her tell me the whole story and I don't let him go into the details. They have already gone through their story with all of its painful details a thousand times in their own mind.
I'm not saying your memories of "him" or "her" aren't accurate.  I'm saying it doesn't matter whether your memories of "him" or "her" are accurate or not.
It doesn't matter what "he" or "she" said or did because your memories cannot and will not help you get over the pain. In fact, as I've said, going back over those memories feeds your pain.
Recent work on the neurophysiology of remembering is shaking the most basic assumptions we hold about memory. When you remember a deeply painful experience, you also experience a surge of adrenal stress hormones which increases the strength of the memory. So, every time you recall a painful memory, a fresh rush of epinephrine and cortisol reinforces the event's emotional impact and its ease of recall.
In other words, each time you remember something painful, the memory and the pain and stress that go along with that memory are strengthened.
Your pain is refreshed and renewed with every recollection.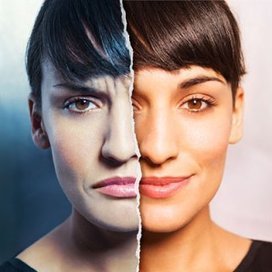 Traditional therapists thought that the way to get over the pain of painful memories was by understanding those memories. They assumed that the way to overcome the pain of a former love was to examine those memories of your former love so you could understand why you were in love in the first place. Then, armed with your new "understanding," you could "grow" out of your former attachment.
It's a nice theory, but modern research has shown that reviewing your memories of "him" or "her" not only doesn't help your pain, it makes it worse.
Memory is an unreliable witness. Painful memories are especially unreliable. However real your memories may seem, things may not have happened the way you remember they did. The American Psychiatric Association warned that it is 'impossible to distinguish false memories from true ones'. ("It is not known how to distinguish, with complete accuracy, memories based on true events from those derived from other sources." American Psychiatric Association, 1993 to pick just one study of many that prove the same point.)
In outlining the science of behavior therapy in his introduction to How to Fall Out of Love Dr. Wolpe went on to explain how behavior therapy works:
Reducing anxiety is central to behavior therapy.
The elimination of anxiety is most easily accomplished by inhibiting the anxiety with a competing response. If a therapist can evoke a response (deep relaxation, for example) in the presence of a stimulus that provokes anxiety (criticism from your father, for example), the bond between the old stimulus and the anxiety it caused (fear of criticism, for example), will be weakened. Eliminating or significantly reducing your anxiety removes obstacles between you and  functioning creatively and comfortably in everyday living.
This book illustrates the way behavior therapy deals with emotional involvements that have outlived their appropriateness. People who are depressed or oppressed by obsessive thinking about another person will learn how to use competing thoughts to break their repetitive chains of thought.
People who are habitually dominated by others will learn how to overcome feelings of helplessness by learning to be assertive.
Joseph Wolpe the great behavioral scientist, the father of Behavior Therapy, and my mentor at Temple University Medical School, wrote the introduction to How to Fall Out of Love.  In it he explained the foundation for behavior therapy.
Our emotional habits resist logical argument or good advice, because something learned emotionally cannot be dealt with purely at an intellectual level. 
He wrote: Anxiety is central to unadaptive behavior. Anxiety is learned behavior. Because of certain experiences, an individual forms the habit of reacting automatically with anxiety or fear to certain situations. Sometimes fear is appropriate, because real danger is involved. In cases where no real danger exists, the fear or anxiety is inappropriate (a fear of heights while looking out of a window would be an inappropriate fear). For some people, such anxiety, whether it's fear of flying, fear of heights, fear of rejection, fear of what others think, fear of taking risks, fear of criticism, fear of intimacy, and a whole range of sexual fears, can become so debilitating that it seriously interferes with daily life.
Hundreds of thousands have gone through my program ( in How to Fall Out of Love) and have fallen out of love in the sense that they no longer constantly think about the person they formerly loved, no longer feel great pain and longing when they do think of that person, and are able to build new relationships with new people.
As I said, I first wrote this book more than thirty years ago, and I am really happy it has helped so many people. It makes me smile when I see copies of that first book, worn and dog-eared, passed from one person to another for sale on Amazon and eBay with the words, "this works."
When you can't see or touch or talk to "him" or "her" as you usually do, the limbic part of your brain (which is responsible for your emotional life and where a lot of the formation of your memory takes place) where "he" or "she" has been embedded, becomes hyperactive, trying to make those connections.
Hyperactivity in the limbic, or emotional part of the brain, has been associated with depression and low serotonin levels, which is why you may have trouble sleeping, obsess about your former love, shut yourself off from other people, lose your appetite and nothing feels good anymore. Scientists have also detected an associated deficit in endorphins, which modulate pain and pleasure pathways in the brain and contribute to the physical level of pain you feel during a breakup."
Ask any therapist and they will tell you that no therapeutic technique or program can ever be expected to be 100% effective. But in the small sample of the 100 cases I treated or supervised before writing How to Fall Out of Love: evenly divided between male & female; college students to people in their late sixties; gay, straight, and bi-sexual, I had a 100% success rate. I couldn't believe it, but it was true.
"It works, it works," I shouted out loud. I was so happy. I thought "this is how Edison must have felt when his light bulb first glowed."
I felt as if I had invented aspirin or penicillin. And I knew that I had to write a book about my program. I have never had an unsuccessful outcome with my How to Fall Out of Love clients. I do a two year follow-up and in a few cases, I've done some "touch-up," usually for jealousy, the most stubborn of the emotions in unrequited love.
Yes, falling out of love is harder to do by yourself without the guidance and encouragement of a trained therapist. But if you are in enough pain, do the exercises, the program in this book will work for anybody who is in pain because their love is not returned or because they are in a dead end relationship.
Laurel's rapid response wasn't unusual, as numbers of other people who successfully went through the program would later prove. Young, old, men, women, gay, straight, they were all, in some ways, immobilized by pain.
Many of them were skeptical of therapy in general and especially wary of a systematic program. That's not surprising because some therapy can take years and still produce little in the way of results.
I believe therapy should be held to the same standards as medicine and work as quickly and painlessly as possible.
And that healing progresses best when therapy is specifically designed to address a specific problem and is systematic and step-by-step.