Browsing articles tagged with " graduated reduction"
Recent scientific studies have tracked down your former love's existence to the deepest, most fundamental level in your brain. "He" or "she" is a systematic part of your nerve-cell pathways and is embedded in the neurons and synapses of the brain.
When you lose someone you love, your brain reacts by trying to make those connections in your brain like those unfortunate people who lost an arm or a leg but still "feel" hot or cold or pain in their missing limb.
Since "he" or "she" is still in your neural connections, you expect to see, hear, feel, and touch "him" or "her" when you wake up in the morning, when you turn around, and when you close your eyes.
Insight or working through your memories of the happiness, pain and sorrow of a lost lover continually reinforces the damage, while not thinking about "him" or "her" weakens the pain.
That's why traditional therapy prolongs the pain and sometimes makes it worse. Traditional therapy asks you how you felt about "him" or "her." And asks you what "he" or "she" was like? And why did you feel that way? I don't ask those questions because, as I've just pointed out, going over how you felt and why you felt that way just reinforces all those old thoughts and images. When a new patient comes into my office suffering from the pain of a lost love, I don't even let her tell me the whole story and I don't let him go into the details. They have already gone through their story with all of its painful details a thousand times in their own mind.
I'm not saying your memories of "him" or "her" aren't accurate.  I'm saying it doesn't matter whether your memories of "him" or "her" are accurate or not.
It doesn't matter what "he" or "she" said or did because your memories cannot and will not help you get over the pain. In fact, as I've said, going back over those memories feeds your pain.
Recent work on the neurophysiology of remembering is shaking the most basic assumptions we hold about memory. When you remember a deeply painful experience, you also experience a surge of adrenal stress hormones which increases the strength of the memory. So, every time you recall a painful memory, a fresh rush of epinephrine and cortisol reinforces the event's emotional impact and its ease of recall.
In other words, each time you remember something painful, the memory and the pain and stress that go along with that memory are strengthened.
Your pain is refreshed and renewed with every recollection.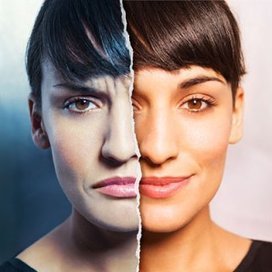 Traditional therapists thought that the way to get over the pain of painful memories was by understanding those memories. They assumed that the way to overcome the pain of a former love was to examine those memories of your former love so you could understand why you were in love in the first place. Then, armed with your new "understanding," you could "grow" out of your former attachment.
It's a nice theory, but modern research has shown that reviewing your memories of "him" or "her" not only doesn't help your pain, it makes it worse.
Memory is an unreliable witness. Painful memories are especially unreliable. However real your memories may seem, things may not have happened the way you remember they did. The American Psychiatric Association warned that it is 'impossible to distinguish false memories from true ones'. ("It is not known how to distinguish, with complete accuracy, memories based on true events from those derived from other sources." American Psychiatric Association, 1993 to pick just one study of many that prove the same point.)
In going over the original version of How to Fall Out of Love  I was impressed by the advantages of a systematic program. It really does help to observe and organize your feelings. It helps, because as psychologist Dr. Herbert Fensterheim has shown, once you observe your feelings, you objectify them and gain perspective.
Gaining perspective lets you see your feelings from a distance.
That distance makes your feelings less overwhelming and easier to handle. It also helps to have a step-by-step program of positive things to do rather than struggle with an tide of amorphous, overwhelming feelings. And it helps to have specific goals so you can measure your progress.
When you can't see or touch or talk to "him" or "her" as you usually do, the limbic part of your brain (which is responsible for your emotional life and where a lot of the formation of your memory takes place) where "he" or "she" has been embedded, becomes hyperactive, trying to make those connections.
Hyperactivity in the limbic, or emotional part of the brain, has been associated with depression and low serotonin levels, which is why you may have trouble sleeping, obsess about your former love, shut yourself off from other people, lose your appetite and nothing feels good anymore. Scientists have also detected an associated deficit in endorphins, which modulate pain and pleasure pathways in the brain and contribute to the physical level of pain you feel during a breakup."
Laurel's rapid response wasn't unusual, as numbers of other people who successfully went through the program would later prove. Young, old, men, women, gay, straight, they were all, in some ways, immobilized by pain.
Many of them were skeptical of therapy in general and especially wary of a systematic program. That's not surprising because some therapy can take years and still produce little in the way of results.
I believe therapy should be held to the same standards as medicine and work as quickly and painlessly as possible.
And that healing progresses best when therapy is specifically designed to address a specific problem and is systematic and step-by-step.
Probably no endeavor on earth begins with higher hopes in the face of fewer chances for success than new love affairs. When the affair or marriage doesn't "work out" and falls apart for whatever reason, falling out of love is usually a natural, although painful process. Most people can and do fall out of love without help. Time heals, they meet other people, and their lives go on.
On the other hand, for some of us, the loss of a love can be an almost overwhelming obsession and an intense, enduring, immobilizing pain. Being in love when it's not returned can lead to depression, obsessive thoughts, sexual dysfunction, inability to work, difficulty in making friends, and self-destructiveness.
For all sorts of reasons, some of us hold fast to the memory of love as if it were the real thing.
Love is so precious (real love, false love, or any kind of love) that we fear to let go, afraid of the loneliness, the feelings of rejection, and the anguish. Losing love is so very painful, it's like losing a part of yourself.
I developed the "How to Fall Out of Love" program from my notes on the first person I ever treated for a broken heart. Of course I realize that poets and song writers have much more to say about the pain of love than any therapist ever could. But I thought I might have something to add. Something that would help people get over their pain and get on with their lives. I analyzed the components of unrequited love: obsessive thinking; putting the person who doesn't return your love on a pedestal; feeling a strong emotional and sexual attraction for that person; feeling worthless and inadequate; and, typically, intense jealousy about any other relationship that he or she might have.
I then designed ways to change those painful components for the better…
As I was saying few days ago, the world has changed radically since I first wrote "How to Fall Out of Love". In that distant time, nobody had heard of  the Internet, Walmart, Starbucks and Tim Tebow.  Now we connect on Facebook and Zoosk.  We Skype, Google and tweet to give our friends the news of our lives with a click. And yet, as much as the world has changed since I first wrote the book, human nature hasn't changed at all. When love ends today it is just as painful as it was in those distant days before the Internet.
Isn't it ironic that love, our greatest source of joy, can inflict so much pain?
Half the marriages in the United States end in divorce, casual affairs are common, and there's a parallel rise in suffering.Perhaps as choices increase and the old behavior codes decline, anxiety rises. Perhaps people are simply more open about their pain.
Whatever the reason, every time I mention that I have a program called "How to Fall Out of Love," I am swamped with letters and phone calls and personal visits from people who have seen the order of their lives turn to chaos, who suffer emotional devastation and pain and who desperately need help.  And now with years more experience, hundreds of new cases, and innumerable improvements to my program, I knew I could make "How to Fall Out of Love" better and I knew I had to renew it.