Browsing articles tagged with " how to get over them"
To sum up my blogs of the past few days, you learned to love that person on many levels including a deep neural physical level in your brain. That fact, that the love you feel for that person is something you have learned to feel, is tremendously important. It is important because, if you learned to love someone, you can unlearn that love.
If you can learn to unlearn, what freedom! You won't have to spend years struggling in the backwash of an old love affair. You won't have to rely on illuminating the whys and wherefores of your former relationship with insight.
If love is learned, you can unlearn to love someone, because you want to stop the pain.
You won't have to rely on wishful thinking ("if only, if only"), the advice of friends or "experts," or the random chance of inspiration or insight, or the slow passage of time.
You can do it yourself. And you can do it now.
Recent scientific studies have tracked down your former love's existence to the deepest, most fundamental level in your brain. "He" or "she" is a systematic part of your nerve-cell pathways and is embedded in the neurons and synapses of the brain.
When you lose someone you love, your brain reacts by trying to make those connections in your brain like those unfortunate people who lost an arm or a leg but still "feel" hot or cold or pain in their missing limb.
Since "he" or "she" is still in your neural connections, you expect to see, hear, feel, and touch "him" or "her" when you wake up in the morning, when you turn around, and when you close your eyes.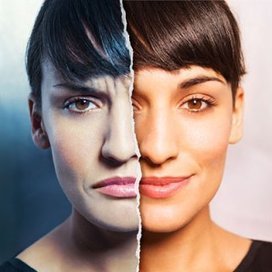 Traditional therapists thought that the way to get over the pain of painful memories was by understanding those memories. They assumed that the way to overcome the pain of a former love was to examine those memories of your former love so you could understand why you were in love in the first place. Then, armed with your new "understanding," you could "grow" out of your former attachment.
It's a nice theory, but modern research has shown that reviewing your memories of "him" or "her" not only doesn't help your pain, it makes it worse.
Memory is an unreliable witness. Painful memories are especially unreliable. However real your memories may seem, things may not have happened the way you remember they did. The American Psychiatric Association warned that it is 'impossible to distinguish false memories from true ones'. ("It is not known how to distinguish, with complete accuracy, memories based on true events from those derived from other sources." American Psychiatric Association, 1993 to pick just one study of many that prove the same point.)
Joseph Wolpe the great behavioral scientist, the father of Behavior Therapy, and my mentor at Temple University Medical School, wrote the introduction to How to Fall Out of Love.  In it he explained the foundation for behavior therapy.
Our emotional habits resist logical argument or good advice, because something learned emotionally cannot be dealt with purely at an intellectual level. 
He wrote: Anxiety is central to unadaptive behavior. Anxiety is learned behavior. Because of certain experiences, an individual forms the habit of reacting automatically with anxiety or fear to certain situations. Sometimes fear is appropriate, because real danger is involved. In cases where no real danger exists, the fear or anxiety is inappropriate (a fear of heights while looking out of a window would be an inappropriate fear). For some people, such anxiety, whether it's fear of flying, fear of heights, fear of rejection, fear of what others think, fear of taking risks, fear of criticism, fear of intimacy, and a whole range of sexual fears, can become so debilitating that it seriously interferes with daily life.
I re-wrote How to Fall Out of Love because I wanted to make it brand new again. And better in every way. I know so much more now.  After 30 years of practice, I have a tremendous amount of practical experience to draw on. And I wanted to make this book relevant and useful to a new generation who despite all the smart phones apps and Facebook friends, have trouble getting over a love affair gone wrong.
The world has changed but human nature hasn't really changed at all.  And loving someone who doesn't or can't love you is just as painful as it ever was.  I wish I could just wave my magic wand over the old book, click my heels three times and before you can say google, it would be brand new and out in the bookstores and on Amazon.com today.  But it has taken a little more than that…
Ask any therapist and they will tell you that no therapeutic technique or program can ever be expected to be 100% effective. But in the small sample of the 100 cases I treated or supervised before writing How to Fall Out of Love: evenly divided between male & female; college students to people in their late sixties; gay, straight, and bi-sexual, I had a 100% success rate. I couldn't believe it, but it was true.
"It works, it works," I shouted out loud. I was so happy. I thought "this is how Edison must have felt when his light bulb first glowed."
I felt as if I had invented aspirin or penicillin. And I knew that I had to write a book about my program. I have never had an unsuccessful outcome with my How to Fall Out of Love clients. I do a two year follow-up and in a few cases, I've done some "touch-up," usually for jealousy, the most stubborn of the emotions in unrequited love.
Yes, falling out of love is harder to do by yourself without the guidance and encouragement of a trained therapist. But if you are in enough pain, do the exercises, the program in this book will work for anybody who is in pain because their love is not returned or because they are in a dead end relationship.
Laurel's rapid response wasn't unusual, as numbers of other people who successfully went through the program would later prove. Young, old, men, women, gay, straight, they were all, in some ways, immobilized by pain.
Many of them were skeptical of therapy in general and especially wary of a systematic program. That's not surprising because some therapy can take years and still produce little in the way of results.
I believe therapy should be held to the same standards as medicine and work as quickly and painlessly as possible.
And that healing progresses best when therapy is specifically designed to address a specific problem and is systematic and step-by-step.
People who come to my office for help are in love and in pain. I'm a behavior therapist, and I help stop the pain so you can escape from a nonproductive dream world of unreturned love. So you can love again and be loved.
I first began developing this particular program in response to Laurel, whose partner had suddenly left without warning or explanation the day before their wedding. Laurel and her fiancé were graduate students at Princeton. They shared courses, friends and vacations and they planned to be married the day after graduation and go on to be field anthropologists. The day before graduation, Laurel's fiancé left (for his parents' home in Nebraska, Laurel learned later) without a word of explanation. The more she thought about what had happened and why, the more she became obsessed and depressed. After two weeks she still couldn't bring herself to apply for grants or a job. She felt isolated and felt it must be all her fault. She was so depressed she seldom left the apartment she had shared with her fiancé.
Millions of people are in love and in pain because their love is not returned. Chances are you know several people who are going through the painful process of falling out of love.
Suddenly, without warning, a young research engineer leaves his wife to live with another woman. A graduate student is deserted by her fiancé just before their wedding. An elderly woman's husband leaves with his young lover for Hawaii. An administrative assistant is in love with his boss who strings him along. A website designer is having an affair with her neighbor but doesn't want to damage her marriage. A banker falls in love with a client who cannot return her love. A venture capitalist is in love with an alcoholic. A hedge fund manager's partner falls in love with another man. A love affair ends for the director but not for the actress.
Our whole culture says "love, love, love" is all you need and says it a thousand ways every day. Yes, yes, it's so easy to fall in love.
But where are the signs to point the way out?
I developed the "How to Fall Out of Love" program from my notes on the first person I ever treated for a broken heart. Of course I realize that poets and song writers have much more to say about the pain of love than any therapist ever could. But I thought I might have something to add. Something that would help people get over their pain and get on with their lives. I analyzed the components of unrequited love: obsessive thinking; putting the person who doesn't return your love on a pedestal; feeling a strong emotional and sexual attraction for that person; feeling worthless and inadequate; and, typically, intense jealousy about any other relationship that he or she might have.
I then designed ways to change those painful components for the better…